Optimal body condition equals optimal production
Written by Darian Livingstone | Ceres Industries
(306) 653-7258 | This email address is being protected from spambots. You need JavaScript enabled to view it.
Body condition scoring is one of the most useful tools for producers to evaluate the nutritional status of the herd. This hands-on assessment uses a numerical scale based on the feel of the animal in addition to a visual appraisal. Determining cattle condition using a hands-on method can be particularly useful in our harsh Canadian winters since the winter coat on cattle can be misleading.
There is a strong correlation between cow body condition, and reproductive efficiency and progeny vigour, especially for spring-calving females. Reproductive performance is an important factor in cow-calf economics, making the condition of cattle equally as important. Thin or over-conditioned females are expensive investments; thin cows have difficulty rebreeding while over-conditioned cows are prone to calving problems.
Beef cattle store energy in the form of fat when energy intake exceeds their requirements and then draw on these reserves when their energy requirement exceeds intake. By evaluating BCS throughout the year, producers can ensure that cattle have appropriate energy reserves before calving. If cattle have a score of three before calving, studies state that cattle will recover much quicker, allowing them to rebreed sooner.
Cows must have adequate energy reserves before the cold sets. During the winter it is nearly impossible for cattle to lay down fat because of the amount of energy they use just trying to stay warm, in addition to gestating. Typically, cattle tend to lose 0.5 to 1 BCS point during the winter.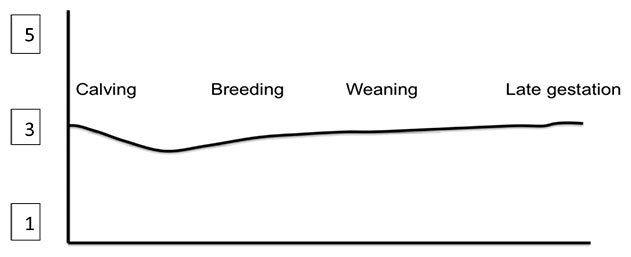 Figure 1. Theoretical BCS curve throughout of the production cycle of a beef cow. Adapted from B. Lardner from the University of Saskatchewan.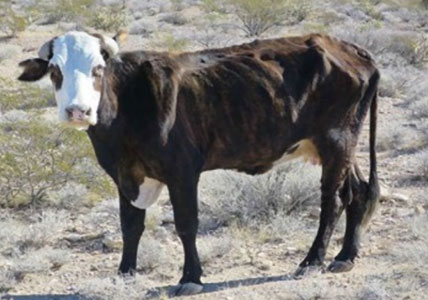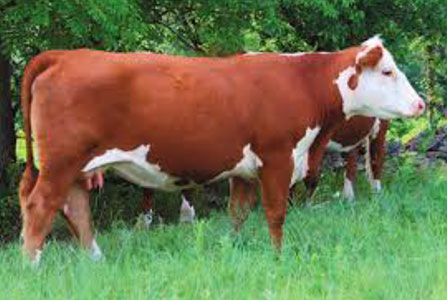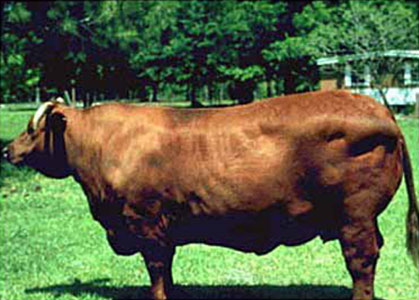 Figure 2 (left): An example of a BCS 1.
Figure 3 (middle): An example of BCS 3 – which is ideal.
Figure 4 (right): An example of a BCS 5. Note the folds of fat over the thighs.
Canada uses a five-point scale, one being emaciated and five being morbidly obese. The ideal BCS for cattle is 2.5 to 3. Following are some guidelines when scoring your cattle.
BCS 1: Short ribs are sharp to touch and there are no fat deposits around the tail head. The backbone, hips, and ribs are visually prominent.
BCS 2: Short ribs are identifiable when touched but feel slightly rounded. Individual ribs are no longer obvious, and the tail head has some fleshy deposits.
BCS 3: Short ribs can only be felt with pressure. The areas surrounding the tail head now have a degree of fat cover, and hips are no longer obvious.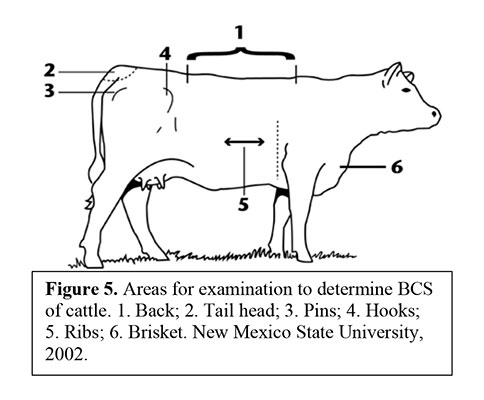 BCS 4: Fat deposits around the tail head are more evident and are appearing as rounds. The short ribs can no longer be felt, even with firm pressure and fat deposits are forming over ribs and thighs.
BCS 5: Overall bone structure is no longer obvious, and the animal is gaining a blocky or square appearance. The tail head and hips are buried in fat. Mobility is impaired.
As stated, the condition of cattle is a major factor that influences the ability of a cow to rebreed. Waiting until calving to manage body condition can make it difficult and expensive to improve the condition of a lactating cow trying to recover from calving.
Cattlemen should strive to body condition score their cattle three times a year. In the fall during pregnancy checking or the start of winter feeding, at calving, and again 30 days before breeding. By doing this, ranchers will have a better idea if they will need to supplement their cattle with additional energy before the upcoming winter. These supplements can come in the form of added concentrates or protein tubs with added fats, such as Saltec Hi- Energy 20, and can be easily incorporated into any feeding program.
For further information or advice about body condition scoring, please call or email Darian Livingstone at Ceres Industries at (306) 653-7258 or This email address is being protected from spambots. You need JavaScript enabled to view it..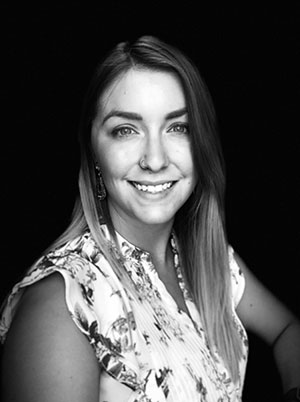 Darian Livingstone comes from a ranch in Alberta, raising purebred and commercial cattle. Being extensively involved with her local 4-H beef club for nine years, she developed a love and passion for cattle.
Darian took her passion and journeyed to college and university. Beginning at Lakeland College and six years later, graduating from the University of Saskatchewan with a B.Sc. in Agriculture and Diploma in agribusiness. She says she is "always striving to learn more about this wonderful industry that feeds the world."
Darian encourages anyone with questions, comments, or needing advice to call or email her (contact info at top of page).